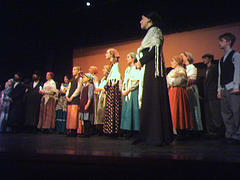 Went to see my friend Sam play the fiddler in Mountain View High
School's production Fiddler on the Roof. Sad in a way, since Sam didn't
get to really perform on the violin the way he really can. But still
great.
The cast also included my good friend Kent Borror on sound and his
daughter Nicki in the cast.